Sabacc Table #6: Virtual Cardboard
Posted by Erik on
September 10, 2013 at 08:31 PM CST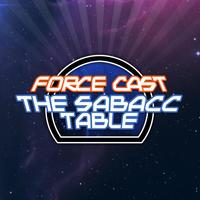 We didn't care much for the
Star Wars: Force Collection
game, but fortunately we've got some news about the first RPG adventure,
Beyond the Rim,
and the now-downloadable Free RPG Day supplement! Plus discussions about the SWTOR guild, a big update to the
Star Wars Dice
app, and more!
Show Notes:
Announcements
News

Battle Foam now has several Wave 3 foam trays available for your X-Wing ships.
The Star Wars Dice app (iOS/Android) will now interpret results and "cancel" dice.

Review

Star Wars: Force Collection
ForceCast Wiki
Information about our programs, hosts, and much more is available on
The Official ForceCast Wiki
. This episode's wiki entry can be found
here
. Sign up and contribute today!
Listen Now!ForceCast Podcast Mobile Apps:
Have the entire ForceCast archives at your fingertips, plus bonus shows and exclusive content!
Direct Download:
Download the show directly to your PC or Mac
here
.
Contact the Show
Email:
sabacctable@forcecast.net
Call: (616) 61-FORCE (36723)
Twitter:
@forcecast
/
@sabacctable
/
@erikblythe
/
@lousecki
/
@thenerdword (Nate)
Facebook:
http://www.facebook.com/forcecast
Help Spread The Word!
Related Stories:
Sabacc Table #11: Wrapping Up 2013
Sabacc Table #10: We Broke Lou
Sabacc Table #9: Finally, Wave 3!
Sabacc Table #8: But Wait, There's More!
Sabacc Table #7: Interview With Jay Little
Sabacc Table #5: Interview With Steve Horvath
Sabacc Table #4: Catching Up
Sabacc Table #3: Playing Roles
Sabacc Table #2: Now What?
Sabacc Table #1: Welcome!

---