Sabacc Table #11: Wrapping Up 2013
Posted by Erik on
December 16, 2013 at 11:04 AM CST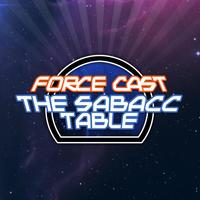 This week we cover new releases for iOS, the RPG, and the LCG, as well as some game updates. We also talk about some EA rumors, the new starships in SWTOR, listener feedback, and more!
Show Notes:
New Releases
News



X-Wing Season Three game nights in Connecticut

Recent X-Wing tournament results from Chantilly, Virginia


Listener Feedback



LCG: Rules for the Death Star dial and using card sleeves on objective decks

Video Games: Why no X-Wing/TIE Fighter games anymore?

LCG: How about an updated review on the current state of the game?

ForceCast Wiki
Information about our programs, hosts, and much more is available on
The Official ForceCast Wiki
. This episode's wiki entry can be found
here
. Sign up and contribute today!
Listen Now!ForceCast Podcast Mobile Apps:
Have the entire ForceCast archives at your fingertips, plus bonus shows and exclusive content!
Direct Download:
Download the show directly to your PC or Mac
here
.
Contact the Show
Email:
sabacctable@forcecast.net
Call: (616) 61-FORCE (36723)
Twitter:
@forcecast
/
@sabacctable
/
@erikblythe
/
@lousecki
/
@thenerdword (Nate)
Facebook:
http://www.facebook.com/forcecast
Help Spread The Word!
Related Stories:
Sabacc Table #14: Full Throttle
Sabacc Table #13: Aces High
Sabacc Table #12: The Aces Are Coming
Sabacc Table #10: We Broke Lou
Sabacc Table #9: Finally, Wave 3!
Sabacc Table #8: But Wait, There's More!
Sabacc Table #7: Interview With Jay Little
Sabacc Table #6: Virtual Cardboard

---