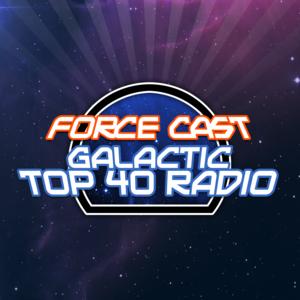 Star Wars Day plus a new episode of Galactic Top 40 Radio filled with all the music you need for such a day? Yes, Star Wars Day is awesome, so dust off the boombox because it's time to party with Galactic Top 40 Radio! Hot off of Star Wars Celebration I go over just some of my experiences in Anaheim, analyze the new trailer music, give you an exclusive into why John Williams isn't using the London Symphony Orchestra, bring back panel audio that compares soundtracks between Kings Row and Star Wars, developments with the show, and of course the perfect energy mix to celebrate Star Wars Day! Oh, and maybe some things with Kevin Kiner coming up in the near future? All this and many more surprises in this month's episode of Galactic Top 40 Radio! Share with your friends you selfish person. #MayThe4thBeWithYou
Listen Now!Download or Subscribe!
Download MP3
♦
Subscribe via iTunes
♦
Subscribe via RSS
♦
Subscribe via Email
Giveaway!
Do you want to be a part of all the new Star Wars we're getting this year? How about being a part of the show and shaping music of the Star Wars fandom? Well High Adventure is producing their 5th album this year and they want YOUR help! Send us your song ideas and titles to GT40@ForceCast.net and myself along with High Adventure will pick the winner! Simple as that! The winner will receive a copy of their fifth album, hardcover copy of Star Wars: Storyboards (Star Wars music while viewing the storyboards? I think yes.), your song in the album, title of song producer, and of course their song played on Galactic Top 40 to thousands of Star Wars fans just like you!
Show Notes:
*All songs listed respectively*


The Star Wars Cantina - Mark Jonathan Davis


Ready For Anything (Star Wars Day Version) - Jason Munday


Droidfriend - teddiefilms


Ahsoka Lives - High Adventure


The Flag Parade - Star Wars: The Phantom Menace Soundtrack


Dha Werda Verda - Star Wars: Republic Commando Soundtrack


Ewok Parade - Star Wars: Return Of The Jedi Soundtrack
.

Maris and The Bull Rancor - Star Wars: The Force Unleashed Soundtrack


Star Wars Theme/Cantina Band - Meco


The Throne Room/End Title - Star Wars: A New Hope Soundtrack


Show Sponsor:
LandO Lakes Butter: The Best In The Galaxy!... Hear their ad via
soundcloud
.
More Resources:Contact Us!Help Spread The Word!