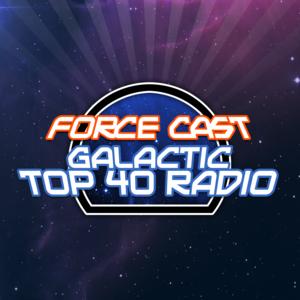 A massive wave of Star Wars is headed our way and to celebrate, High Adventure is capturing the moment with a 5TH album later in 2015! The fans send in some of their favorite indie band songs, I search back channels of the internet to find the artist behind a song revolving around Lando, and a NEW segment debuts on Galactic Top 40! It's your Star Wars music mix and more in this week's episode of Galactic Top 40!
Listen Now!Download or Subscribe!
Download MP3
♦
Subscribe via iTunes
♦
Subscribe via RSS
♦
Subscribe via Email
Giveaway!
Do you want to be a part of all the new Star Wars we're getting this year? How about being a part of the show and shaping music of the Star Wars fandom? Well High Adventure is producing their 5th album this year and they want YOUR help! Send us your song ideas and titles to GT40@ForceCast.net and myself along with High Adventure will pick the winner! Simple as that! The winner will receive a copy of their fifth album, hardcover copy of Star Wars: Storyboards (Star Wars music while viewing the storyboards? I think yes.), your song in the album, title of song producer, and of course their song played on Galactic Top 40 to thousands of Star Wars fans just like you!
Show Notes:
*All songs listed respectively*


The Rebel Force Band - Livin' In These Star Wars


Jeremy Messersmith - Tatooine


A New Hope Soundtrack - The Dune Sea of Tatooine


Star Wars Kinect - Blasterproof


Cory Videl - John Williams Is The Man


Lando Explains


High Adventure - The Game Of Boba Fett
.

Twin Sister - No Good To Me Dead


Meco - The Empire Strikes Back Medley


Show Sponsor:
LandO Lakes Butter: The Best In The Galaxy!... Hear their ad via
soundcloud
.
More Resources:Contact Us!Help Spread The Word!