Weekly ForceCast: January 21, 2011
Posted by Jason on
January 21, 2011 at 09:18 AM CST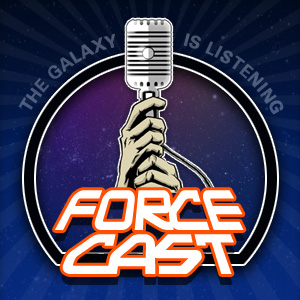 Star Tours relaunch gets a date,
Star Wars
comes to LEGOland, Insider previews incredible 3-part
Clone Wars
arc, and the Notorious G.L. opens up to Seth Rogen about Mayan "end of world" prophecies. Plus,
Star Wars
in Pop Culture looks at Mad's
Clone Wars
parody, and Jimmy Mac investigates the "canonocity" of the Ewok TV movies and animated series. All that and a whole lot more on this edition of the Weekly ForceCast.
Attention ForceCast Smartphone App Users:
Click "Extras" for more audio highlights from Darth Vader's appearance at the Consumer Electronics Show in Las Vegas for the big Blu-ray announcement.
Thank you to this week's Sponsor:
Go to
audiblepodcast.com/tfn
for your free audio book download from Audible.com.
ForceCast Podcast Mobile Apps:
Have the entire ForceCast archives at your fingertips, plus bonus shows and exclusive content!
Download for Android OS Devices (running 2.1 or higher)

ForceCast T-shirts:
Order yours today!

Listen Now!


Direct Download:
Download the show directly to your PC or Mac here

Help Spread The Word!



Take Our Survey
Help us get to know you better by answering a few questions about yourself, how you listen, likes, dislikes... we want to know it all!
Standard Survey
Abbreviated Version

Listen to The ForceCast: LIVE
Be part of the action Tuesdays at 8:00 PM ET only at ForceCast.Net!
Related Stories:
Weekly ForceCast: February 11, 2011
Weekly ForceCast: February 4, 2011
Weekly ForceCast: January 28, 2011
Weekly ForceCast: January 14, 2011

---