Weekly ForceCast: February 4, 2011
Posted by Jason on
February 4, 2011 at 09:13 AM CST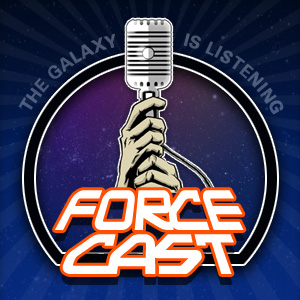 This week on your Weekly ForceCast:
LEGO Star Wars 3
gets pushed back, Qui-Gon Jinn lands his own comic, and dudes who like to get it on while watching "The Wars." Plus, quotes from and inspired by Billy Dee and Bill Murray the lounge singer croons again. All that and more just a click away!
Show Notes
You can see more information about this episode on
its wiki page
. We invite you to expand and improve the wiki with your own contributions.
Attention ForceCast Smartphone App Users:
Click "Extras" to hear
ForceCast: Bantha Poodoo - The Blizzard of 2011
. Hear all the technical difficulties we suffered through as massive winter storms racked the palatial ForceCast studio and Chicago annex. Sometimes nerve wracking, sometimes embarrassing, and sometimes hilarious moments occur as a Hoth-like blizzard makes for an unpredictable technical situation. As Threepio famously said: "It's a nightmare!"
UPDATE:
due to the current technical problems with the app, we are making this BONUS available to everyone
here
.
ForceCast Podcast Mobile Apps:
Have the entire ForceCast archives at your fingertips, plus bonus shows and exclusive content!
Download for Android OS Devices (running 2.1 or higher)

ForceCast T-shirts:
Order yours today!

Listen Now!


Direct Download:
Download the show directly to your PC or Mac here

Help Spread The Word!



Take Our Survey
Help us get to know you better by answering a few questions about yourself, how you listen, likes, dislikes... we want to know it all!
Standard Survey
Abbreviated Version

Listen to The ForceCast: LIVE
Be part of the action Tuesdays at 8:00 PM ET only at ForceCast.Net!
Related Stories:
Weekly ForceCast: February 25, 2011
Weekly ForceCast: February 18, 2011
Weekly ForceCast: February 11, 2011
Faithful ForceCast Listeners Send Loot To Palatial Studios!
Weekly ForceCast: January 28, 2011
Weekly ForceCast: January 21, 2011
Weekly ForceCast: January 14, 2011

---