ForceCast #313: The First Transport Is Away
Posted by Eric on
July 25, 2014 at 09:00 AM CST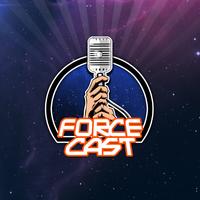 J.J. Abrams reveals the first new starship of the sequel trilogy,
Star Wars Rebels
reveals the voice behind its "big bad," and we've got Episode VII rumors aplenty. Justin is out at San Diego Comic-Con, but Eric, Erik, and guest co-host
Christian Blauvelt
discuss the possible premise of the first sequel film, John Boyega's role, a gender-swapped character, a new rumored cast member, and much more. Tune in and sit back, because another news-packed ForceCast is coming right up!
Show Notes:
The HoloNetFan Focus
ForceCast Wiki
Information about our programs, hosts, and much more is available on
The Official ForceCast Wiki
. This episode's wiki entry can be found
here
. Sign up and contribute today!
Listen Now!Support the Show
You can support our work by pledging a donation through
Patreon
. Thank you for your support!
ForceCast Podcast Mobile Apps:
Have the entire ForceCast archives at your fingertips, plus bonus shows and exclusive content!
Direct Download:
Download the show directly to your PC or Mac
here
.
**UPDATE**
Today's episode was released as an "enhanced podcast" including images and chapter markers. Some people have expressed issues with some podcast players using this file format.
Here is a link to the MP3 version.
Sorry for the inconvenience.
Contact the Show
Email:
forcecast@forcecast.net
Call: (616) 61-FORCE (36723)
Twitter:
@forcecast
/
@erikblythe
/
@ericgeller
/
@TheApexFan (Justin)
Facebook:
http://www.facebook.com/forcecast
Help Spread The Word!
Related Stories:
ForceCast #316: I Want To Be DC Barns!
ForceCast #315: Filoni, Finoli, Finale
ForceCast #314: A New Dawn At Comic-Con
ForceCast #312: Sorry Sarlacc, Boba Fett Lives
ForceCast #311: In My Palpatine Way
ForceCast #310: A Love Story

---