Weekly ForceCast: August 13, 2010
Posted by Jason on
August 13, 2010 at 06:17 PM CST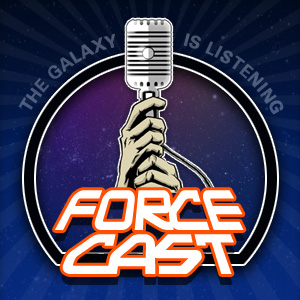 Day one at
Star Wars
Celebration V and the gang's all here, starting with Rebelscum.com founder and ForceCast Grand Poobah Philip Wise in a rare interview. Plus appearances by Kyle Newman, Paul Bateman, Dan Curto, "Jovial" Jay, Eric Geller, Mandy B., and more. Dan Madsen shows up with some free swag, Hasbro's Derryl DePriest accepts an award, and members of the 501st surprise the ForceCast.
ForceCast iPhone/iPod Touch App
Have the entire ForceCast archives at your fingertips, plus bonus shows and exclusive content!
Get it now
!
ForceCast T-shirts:
Order yours
today
!
Listen Now!Direct Download:
Download the show directly to your PC or Mac
here
Help Spread The Word!
Take Our Survey
Help us get to know you better by answering a few questions about yourself, how you listen, likes, dislikes... we want to know it all!
Standard Survey
Abbreviated Version
Listen to The ForceCast: LIVE
Be part of the action Wednesdays at 8:00 PM ET only at
ForceCast.Net
!
Related Stories:
Weekly ForceCast: September 3, 2010
ForceCast: Live From CV: Day IV
ForceCast: Live From CV: Collector's Edition
The ForceCast Welcomes Back Mark Hamill
ForceCast: Live From CV: Day III
ForceCast: Live From CV: Mark Hamill
ForceCast: Live From CV: Day II
Weekly ForceCast: August 6, 2010
Weekly ForceCast: July 30, 2010

---