The ForceCast: Now On Your Android Phone
Posted by Eric on
November 23, 2010 at 04:13 PM CST
UPDATE: The ForceCast has switched from the Google-run Android app marketplace to the Amazon Appstore for Android. Click here to get our Android app.


"Android? You can't do better than that!"
First,
we brought you an iOS app
, so you could enjoy our content and bonus features on your iPhone or iPod touch. Now, we're launching another mobile app that will bring you ForceCast goodness on your Droid, Droid 2, Droid X, Droid Incredible...if it runs Android 2.1 or higher, you can get the new ForceCast Android app on it!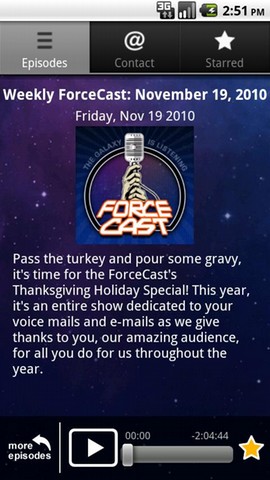 For details about the app, visit
its page
on the AppBrain App Market. (Incidentally, if you have AppBrain
set
up
on your phone, you can install our app right from that website.) The ForceCast Android app includes many of the great features from the iOS version, like bonus shows, earlier access to regular content, quick links to contact us, and the ability to star your favorite shows for later listening.
To download the app, you can search for "forcecast" in the Android Market or
click here
when browsing from your phone to launch the installation:
The ForceCast Android app, like its iOS companion, costs $2.99. We know Android-owning listeners have been asking for it, and we delivered. So download it now!
Related Stories:
ForceCast iPhone Application Released

---