Weekly ForceCast: July 30, 2010
Posted by Jason on
July 30, 2010 at 02:39 PM CST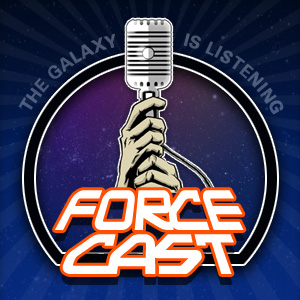 This week on the ForceCast:
Star Wars
artist Randy Martinez joins us to talk about his Celebration V plans.
Star Wars Insider
contributor and JediNews.co.uk content manager James Burns chats about last week's big UK event with Hasbro and Jeremy Bulloch. Plus, Darth Vader robs a bank, Death Star bathrooms, Billy Dee's quote of the week, and much more.
iPhone/iPod Touch App Extras:
Click on EXTRAS for this episode for an exclusive
Star Wars
Headlines segment
ForceCast iPhone/iPod Touch App
Have the entire ForceCast archives at your fingertips, plus bonus shows and exclusive content!
Get it now
!
ForceCast T-shirts:
Order yours
today
!
Listen Now!Direct Download:
Download the show directly to your PC or Mac
here
Help Spread The Word!
Take Our Survey
Help us get to know you better by answering a few questions about yourself, how you listen, likes, dislikes... we want to know it all!
Standard Survey
Abbreviated Version
Listen to The ForceCast: LIVE
Be part of the action Wednesdays at 8:00 PM ET only at
ForceCast.Net
!
Related Stories:
Weekly ForceCast: August 13, 2010
Weekly ForceCast: August 6, 2010
Weekly ForceCast: July 23, 2010
Weekly ForceCast: July 16, 2010
Weekly ForceCast: July 9, 2010
Weekly ForceCast: July 2, 2010

---