Special: The Empire Strikes Back Commentary
Posted by Jason on
May 21, 2010 at 08:26 PM CST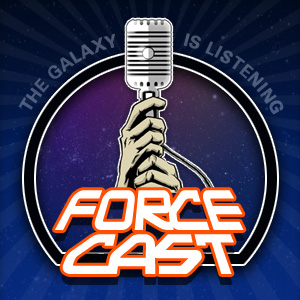 On May 21, 1980,
Star Wars Episode V: The Empire Strikes Back
premiered in theaters everywhere. The ForceCast celebrates the 30th anniversary of this cinema classic with our first ever
Star Wars Saga
film commentary. For this special occasion, we got together with our pals Kyle Newman and Paul Bateman for a fun-filled screening of many fans' favorite
Star Wars
episode. This is one of our most requested shows and we are happy to invite you to pop in your DVD of
The Empire Strikes Back
(Special Edition) and watch this incredible movie with us. Celebrate the 30th anniversary of Empire in style with this special edition of The ForceCast.
ATTENTION FORCECAST iPHONE APP OWNERS!
Be sure to click on the Extras feature for this show to listen to an awesome concert from High Adventure, winner of our Mandalore Rain contest. Check out High Adventure on this ForceCast iPhone App exclusive as they rock out at ComiCONN in North Haven, Ct. Hear their entire concert here, courtesy of High Adventure and The ForceCast.
High Adventure: Live at ComiCONN
North Haven, CT
May 15, 2010
1. The Ballad of Indiana
2. The Rise of Cad Bane
3. The Big Bang Theory
4. What About Pluto?
5. Mandalore Rain
6. Rollercoaster
7. Farm Boy
8. With a Little Help From My Friends / Lucy In The Sky With Diamonds
9. I Don't Want To Live On The Moon
10. Humpy the Ewok
11. West Hill Road
12. Guitar Hero
13. The Saga Begins
High Adventure Is:
Glen Nelson - Keyboards and Vocals
Todd Howard - Bass Guitar, Acoustic and Electric Guitars, Bass Synth, and Vocals
Christopher Eddy - Drums, Percussion, and Vocals
Produced by High Adventure
The High Adventure website is
http://www.highadventuremusic.com
Live Sound by Arthur Wnuk and Nuge's Audio, Springfield, MA (
http://www.audioandlights.com/
)
Mixed and Mastered by Todd Howard, Howard Digital Media, Williamstown, MA (
http://www.toddhoward.com
)
All Songs © 2010 High Adventure Music, except: "What About Pluto" and "Guitar Hero" © 2008-2009 Spaghetti Cake; "The Big Bang Theory" © The Barenaked Ladies; "I Don't Want To Live On The Moon" © Jeff Moss; "With A Little Help From My Friends" and "Lucy In The Sky With Diamonds" © The Beatles, J. Lennon & P. McCartney, ©Copyright Northern Songs, Music Sales Group Ltd.; "Mandalore Rain" (Parody of "Mandolin Rain") © B. Hornsby; and "The Saga Begins" © Weird Al Yankovic.
ForceCast iPhone/iPod Touch App
Have the entire ForceCast archives at your fingertips, plus bonus shows and exclusive content!
Get it now
!
ForceCast T-shirts:
Order yours
today
!
Listen Now!Direct Download:
Download the show directly to your PC or Mac
here
Help Spread The Word!
Listen to The ForceCast: LIVE
Be part of the action Tuesdays at 8:00 PM ET only at
ForceCast.Net
!
Related Stories:
Specials: Return of the Jedi Commentary
Specials: A New Hope Commentary

---