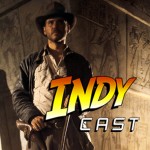 This week Stephen Hall gives us an update on Harrison's lucky escape, we have more new Indy merchandise, we get a diary of a stuntman, a new Harrison Ford movie debuts next month, Double T?s joins us for another review segment and we have more of your great voice and emails!
Listen Now!
Use the player above to listen online or
right click here
and "save as" to download the show directly to your PC.
iTunes
Subscribe to the show via iTunes
and be kept up to date automatically each week.
RSS Feed
Subscribe via the Indy-Cast RSS Feed
right here
.
Show notes for March 23rd, 2015
NEWS
Update on Harrison Ford's injuries
Harrison narrates new film
Raiders the Adaptation guys talk Indy 5
George Lucas to talk Indy with Stephen Colbert
Stephen Hall as Crane Girdle - Harrison Ford fan!
Terry Leonard Raiders Q&A
Diary of a Disney Indy Stuntman
COLLECTING
New Indy merchandise at the Disney parks
BOOKS & COMICS
Double T's Grail Chronicles Blog
Possum Times podcast
Indy Mag Issue #4
IndyCast Further Adventures Episode Guide on the Raven forum
Email Joe and Keith at thefurtheradventures@gmail.com
.
The Further Adventures of Indiana Jones Facebook page
The Further Adventures of Indiana Jones theme
Comic Book Central Facebook page
Comic Book Central website
VIDEO GAMES
Indiana Jones and the Emperor's Tomb Digital download
MAIL
Listener submitted photos
Indy locations to visit
Grant Morrison pitched a story for Indy 4?
The Indiana Jones Archive on Facebook
Contact The IndyCast Crew
Our website - theIndyCast.com
Add some photos to the IndyCast flickr page!
Become a fan of the show at Facebook!Follow us on Twitter at twitter.com/indycast!Discuss the show at the Rebelscum forums or The Raven Forums
General Email :
indycast@forcecast.net
.
Host - Ed Dolista
Email :
ed@theindycast.com
.
IndyCast Correspondent - Mitchell Hallock
Email :
mitch@theindycast.com
.
Rob - The Indy Opinion
Email :
rob@theindycast.com
.
Laird - John Williams Specials
Email :
laird@theindycast.com
.
Ron - John Williams Specials
Email :
ron@theindycast.com
.
Discuss show topics in our
forum
.
Email Notification
Subscribe to The IndyCast : Indiana Jones News and Commentary by Email