Weekly ForceCast: June 25, 2010
Posted by Jason on
June 25, 2010 at 08:35 AM CST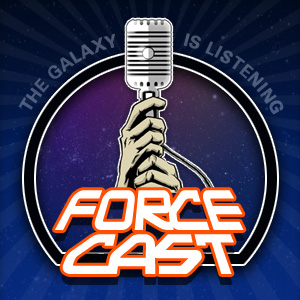 The countdown to Star Wars Celebration V continues with details of the con's recently announced "Main Event" and Dean Plantamura and Scott Will of the 501st stop by to talk about the Legion's CV plans. Also a look at some of the week's top stories, including a Star Tours update, Trek vs. Wars (again), and the real world psychology of Anakin Skywalker. Plus, Billy Dee and another round of Star Wars in pop culture.


iPhone/iPod Touch App Extras:
Click on Extras for this episode for highlights from Star Wars Sound Design wizard Ben Burtt's Q&A with Anthony Daniels at Star Wars Celebration II in Indianapolis, May 4, 2002. Get pumped for CV with this CII flashback courtesy of the ForceCast.


Show Sponsor:
Go to AudiblePodcast.com/TFN for your free audio book download!


ForceCast iPhone/iPod Touch App
Have the entire ForceCast archives at your fingertips, plus bonus shows and exclusive content! Get it now!


ForceCast T-shirts:
Order yours today!


Listen Now!


Direct Download:
Download the show directly to your PC or Mac here


Listen to The ForceCast: LIVE
Be part of the action Wednesdays at 8:00 PM ET only at ForceCast.Net!
Related Stories:
---