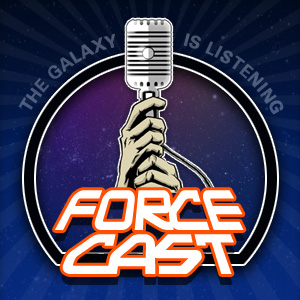 Supervising Director of
Star Wars: The Clone Wars
, Dave Filoni, joins Jason and Jimmy for our annual
Clone Wars
"Halftime Show." Plus, the return of the Billy Dee Quote of the Week,
Star Wars
in Pop Culture, and much more!
Bonus For ForceCast Mobile App Users:
Click on "Extras" for this show and listen in to some post-show conversation between Jason and Jimmy. Be a fly on the wall in the palatial ForceCast studios as the ForceCasters wind down following an action-packed show.
ForceCast Podcast Mobile Apps:
Have the entire ForceCast archives at your fingertips, plus bonus shows and exclusive content!
Download for Android OS Devices (running 2.1 or higher)

ForceCast T-shirts:
Order yours today!

Listen Now!


Direct Download:
Download the show directly to your PC or Mac here

Help Spread The Word!



Take Our Survey
Help us get to know you better by answering a few questions about yourself, how you listen, likes, dislikes... we want to know it all!
Standard Survey
Abbreviated Version

Listen to The ForceCast: LIVE
Be part of the action Tuesdays at 8:00 PM ET only at ForceCast.Net!