IndyCast: Episode 255
Posted by Ed on September 11, 2017 at 12:01 AM CST: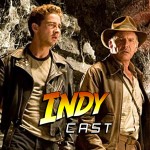 This week we can confirm one character who won't be returning for Indy 5, we catch up with Official IndyCast Correspondent Mitch Hallock who talks about that character's departure, Ron returns with another bite-sized Indy fun fact, Double T's has his final Grail Chronicles review, Chris Allan is back with a new installment of IJ in the UK and we have more of your great emails!
Listen Now!Download or Subscribe!




More Resources:Contact Us!Show Notes For September 11th, 2017
Help Spread The Word!