IndyCast: Episode 254
Posted by Ed on August 28, 2017 at 02:11 AM CST: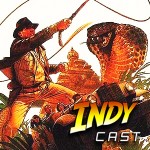 This week we catch up with some of the IndyCast crew as they caught up at Official IndyCast Correspondent Mitch Hallock's Terrificon, rumours abound about Indy in the Disney parks, a new film series aims to be this generationís Indiana Jones, Ron returns with another bite-sized Indy fun fact, Double T's has another Grail Chronicles review and we have more of your great emails!
Listen Now!Download or Subscribe!




More Resources:Contact Us!Show Notes For August 28th, 2017
Help Spread The Word!