The ForceCast
has your first peek at the giveaways for the Collecting Stage at Celebration VI, courtesy of Lucasfilm. Look for the official announcement tomorrow at
starwars.com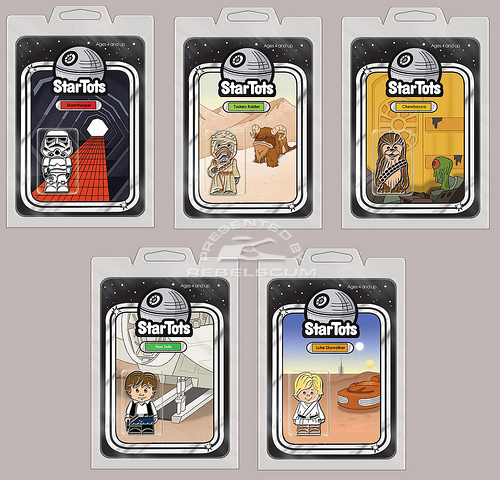 Many Celebrations ago, the organizers of the Celebration Collecting Track created a grand tradition: giving away an exclusive item to everyone attending each and every track presentation throughout the entire show. The tradition continues for Star Wars Celebration VI with an all-new giveaway, Star Tots!
The Star Tots are based on an unproduced Kenner pre-school toy concept from 1978 and have been re-created at the original height of 1.75". There are 20 different Star Tots in the set and each flat character is made of high-quality diecast metal with hard-enamel coloring. Creative packaging puts each Star Tot in its own environment, featuring original backgrounds by artist Jason Peltz.
Building on the past success of trading card, medallion, and parody cereal box giveaways, the Star Tots are a limited-edition exclusive available only to attendees of the Collecting Track presentations. A different Star Tot character will be given away at each presentation over the course of the four-day convention. Plan ahead and make the Collecting Track your destination point at Star Wars Celebration VI.
The world of Star Tots is here! The five figures pictured are the first look at a total of 20 figures to be announced. Stay tuned to
starwars.com
and
starwarscelebration.com