Clone Wars Roundtable: S2 : Eps. 1 and 2
Posted by Jason on October 9, 2009 at 08:30 AM CST: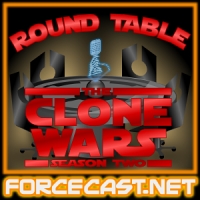 The Clone Wars
series is back! And with it comes the ForceCast's Clone Wars Roundtable podcasts. This week we're looking at the first two episodes of season 2,
Holocron Heist
and
Cargo of Doom
. Joining us on the panel are Rebelscum.com's Dan Curto and Director Kyle Newman.
Panelists: