Collector's Edition: April 2011
Posted by Jason on
April 20, 2011 at 09:49 PM CST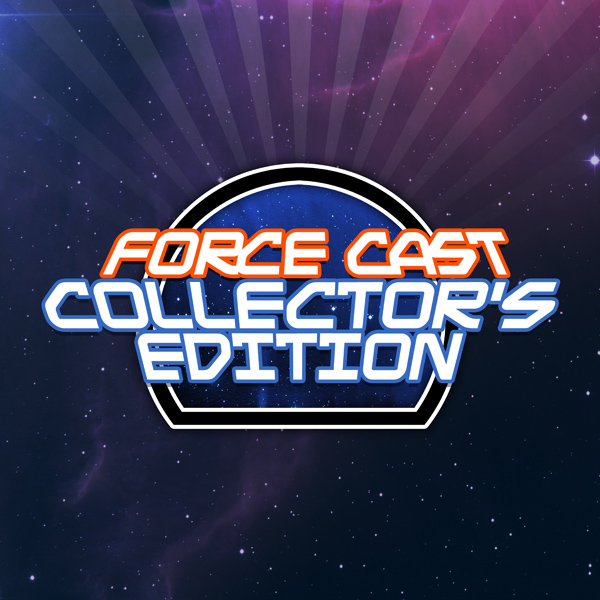 The nominations phase of the fourth annual Rebelscum.com Hasbro Wishlist Poll has concluded, and the top characters are revealed exclusively here in this FCCE microcast! James Burns and Dan Curto are joined by special guest Paul Cotcher (better known as Since1978 in the forums) as they go over the top choices in each category of the nominations phase. All six films are represented, as well as the Expanded Universe,
The Clone Wars
, and a brand-new category..."
Clone Wars
Realistic!" As always, the results will be presented to the Hasbro
Star Wars
team at SDCC in July. While there will be no official automatically produced winner from this poll, the results do matter! Hasbro looks at every detail of these polls, and keeps the top choices in the fabled "parking lot" for future consideration.
ForceCast T-shirts:
Order yours
today
!
Listen Now!ForceCast Podcast Mobile Apps:
Have the entire ForceCast archives at your fingertips, plus bonus shows and exclusive content!
Download for Android OS Devices (running 2.1 or higher)

Direct Download:
Download the show directly to your PC or Mac here

Help Spread The Word!



Take Our Survey
Help us get to know you better by answering a few questions about yourself, how you listen, likes, dislikes... we want to know it all!
Standard Survey
Abbreviated Version

Listen to The ForceCast: LIVE
Be part of the action Tuesdays at 8:00 PM ET only at ForceCast.Net!
Related Stories:
Collector's Edition: June 2011
Collector's Edition: Hasbro Q&A Microcast
Collector's Edition: May 2011
Collector's Edition: April 2011, Part II
Collector's Edition: March 2011
Collector's Edition: February 2011
Collector's Edition: Toy Fair 2011 Report

---