Weekly ForceCast: January 29, 2010
Posted by Jason on
January 29, 2010 at 08:32 AM CST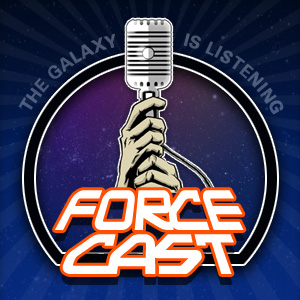 Your weekly dose of
Star Wars
is back and a jam-packed show it is, including a UK ToyFair report from James Burns of JediNews.co.uk and an exclusive interview with a lucky Hyperspace member who attended this week's
Clone Wars
screening/Mando Madness at Lucasfilm. Plus, two shots of Billy Dee, Harrison Ford disses Han (again) to MTV, and a strange report of a deeply emotional response to...
Return of the Jedi
. Plus a check of the snail-mail bag and your voicemails and emails.
Show Sponsor:
Go to
AudiblePodcast.com/TFN
for your free audio book download!
ForceCast T-shirts:
Order yours
today
!
Listen Now!Direct Download:
Download the show directly to your PC or Mac
here
Help Spread The Word!
Listen to The ForceCast: LIVE
Be part of the action Tuesdays at 8:00 PM ET only at
ForceCast.Net
!
Related Stories:
---