Jedi Journals: April 2011
Posted by Jason on April 6, 2011 at 08:56 PM CST: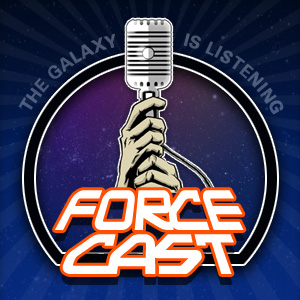 Join us this month as we review all the publishing announcements from C2E2, including Jimmy Mac's chat with Knight Errant author John Jackson Miller. Plus, Jay and Chris talk with Deceived author Paul S. Kemp, announce a new contest, and offer up a few surprises along the way in this April edition of Jedi Journals!

ForceCast T-shirts:
Order yours today!

Listen Now!


ForceCast Podcast Mobile Apps:
Have the entire ForceCast archives at your fingertips, plus bonus shows and exclusive content!

Download for Android OS Devices (running 2.1 or higher)

Direct Download:
Download the show directly to your PC or Mac here

Help Spread The Word!



Take Our Survey
Help us get to know you better by answering a few questions about yourself, how you listen, likes, dislikes... we want to know it all!
Standard Survey
Abbreviated Version

Listen to The ForceCast: LIVE
Be part of the action Tuesdays at 8:00 PM ET only at ForceCast.Net!